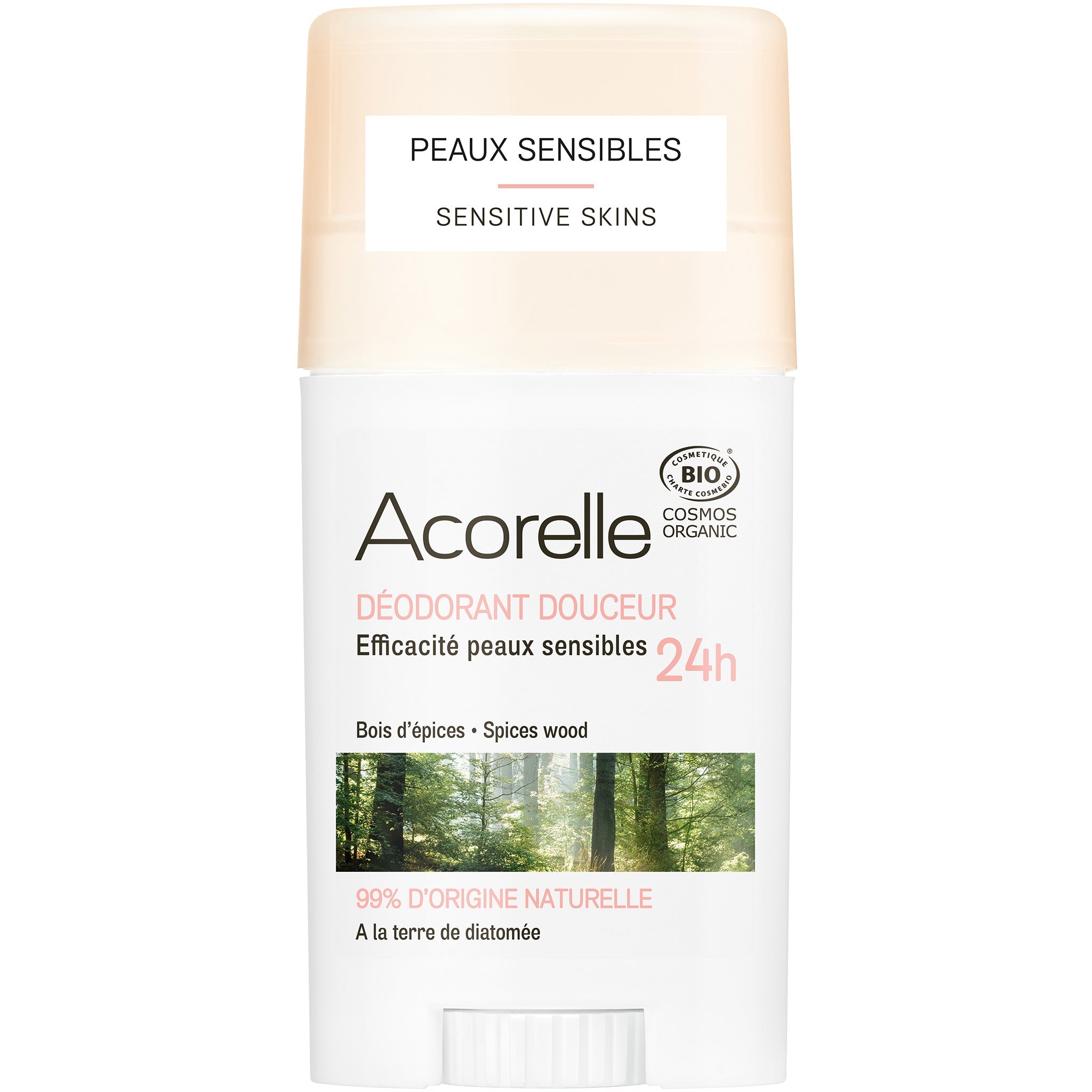 Certified Organic

Natural Product

Not tested on animals

Vegan Product

Vegetarian Product
Deodorant Stick Gel - Wood Spice
40g
---
A combination of innovative active ingredients with absorbent and refreshing properties gives this organic soft deodorant and 99.9% of natural origin optimal effectiveness throughout the day. A gentle and delicate innovation in the category of organic and natural deodorants which respects sensitive skin and does not attack the skin:
Diatomaceous Earth: this innovative active ingredient quickly absorbs perspiration thanks to its microporous structure. It is made up of microporous siliceous fossilized skeletal remains of aquatic algae, known as diatoms. Its properties allow it to limit bad body odor to leave skin soft and dry.

Pure metallic silver : Its also porous form also gives it absorbent properties. In addition, it acts directly on the bacteria responsible for bad odors during the sweating process. It becomes in its ionic Ag + form when in contact with the skin and can thus destroy the DNA of bacteria to kill them.
The characteristic natural gray color of these 2 active ingredients gives the soft deodorant a grayish tint.
Corn starch : for a powdery finish and the softest skin, this plant-based and natural active ingredient mattifies and absorbs perspiration.
Thanks to these 3 ingredients, the texture of this organic soft deodorant and 99.9% of natural origin does not remain rough and allows easy application and 24-hour effectiveness.  
AN EFFECTIVE 24H CARE ON SENSITIVE SKIN
Let yourself be carried away by this sensory scent 100% of natural origin with woody and fresh accords of spice wood soft deodorant. More than a simple deodorant reducing bad odors, it is a real treatment for sensitive skin and guarantees freshness throughout the day. The application is simple and streak-free thanks to its stick format and its smooth texture which melts on contact with the skin.
A large number of ingredients have been selected by Acorelle's Research & Development department, and enrich this innovative formula for more softness, care and freshness:  
Bisabolol : best ally for sensitive skin, this natural active ingredient soothes, repairs the skin and protects it from possible irritation.

Peppermint floral water and green tea leaf extract : refreshing and purifying, these 2 active ingredients guarantee 24-hour freshness. 

Sunflower oil : thanks to unsaturated fatty acids and antioxidant vitamin E, this active ingredient nourishes and hydrates * sensitive skin.                                            * hydration of the upper layers of the epidermis.
Tried and Tested
Certified organic Cosmos Organic, the gentle deodorant effective for sensitive skin 24h has already won over a large number of Acorelle testers *:
- This product does not leave marks on clothes: 96% 
- This product reduces the feeling of humidity at the end of the day: 78%.
- This product provides a feeling of comfort : 79%
* Test on 28 women, consumers of organic cosmetic products, with a daily application for 21 days