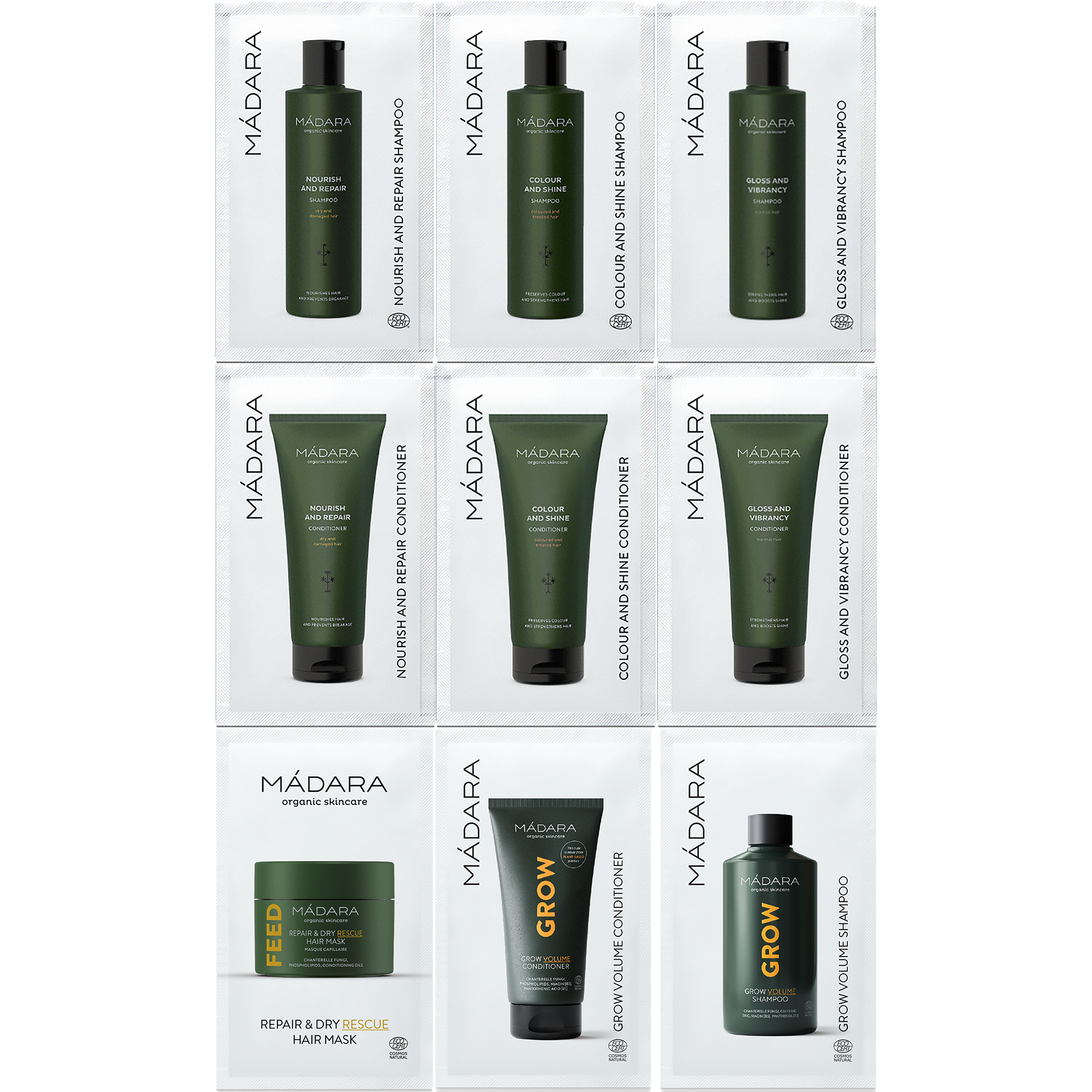 Certified Organic

Natural Product

Not tested on animals
MADARA Sample Sachet Variety Pack - Free with £60 Spend
---
Treat yourself to this free gift on us when you spend £60 on anything at mypure.co.uk

T&C's: One free gift per order. To qualify please ensure the amount billed to your chosen payment method is £60 or more.
Choose from 5 skincare sachet packs.  Each pack contains at least 8 MADARA skincare sample sachets.
*Please note: Sample selection may vary
MÁDARA TIME MIRACLE PACK:
-1 x Time Miracle Total Renewal Night Cream 2ml
-1 x Time Miracle Age Resist Day Cream 2ml
-1 x Time Miracle Wrinkle Resist Eye Cream 2ml
-1 x Time Miracle Ultimate Facelift Day Cream 2ml
-1 x Melting Cleansing Oil 4ml
-1 x Time Miracle Reface Sleep & Peel Overnight Serum 2ml
-1 x Time Miracle Radiant Shield Day Cream SPF15 2ml

MÁDARA SOS HYDRATION PACK:
-1 x SOS Eye Revive Hydra Cream & Mask 2ml
-1 x SOS HYDRA Recharge Cream 2ml
-1 x SOS HYDRA Repair Intensive Serum 2ml
-1 x Vitamin C Illuminating Recovery Cream 2ml
-1 x Vitamin C Intense Glow Concentrate 2ml
-1 x Hydra Soft Body Lotion 5ml
-1 x Derma Collagen Night Source Sleeping Cream 2ml
-1 x Derma Collagen Hydra Fill Firming Serum 2ml
MÁDARA SPF PACK:
-1 x Beach BB Shimmering Sunscreen SPF15 3ml
-1 x City CC Cream SPF 15 - light  2ml
-1 x City CC Cream SPF 15 - medium  2ml
-1 x City CC Cream SPF 15 - beige 2ml
-1 x City CC Cream SPF 15 - tan 2ml
-1 x Plant Stem Cell Age Defying Sunscreen Face - SPF 30 2ml
-1 x Plant Stem Cell Antioxidant Sunscreen Body - SPF 30 3ml
-1 x Time Miracle Radiant Shield Day Cream SPF15 2ml

MÁDARA SMART ANTI-FATIGUE:
-1 x SMART Anti-Fatigue Eye Rescue Cream 1.5ml
-1 x SMART Anti-Fatigue Urban Moisture Cream 2ml
-1 x SMART Anti-Fatigue Urban Moisture Fluid 2ml
-1 x Sunflower - Golden Beige Tinting Fluid 2ml
-1 x Moonflower - Rose Beige Tinting Fluid 2ml
-1 x Melting Cleansing Oil 3ml
-1 x Derma Collagen Hydra Fill Firming Serum 2ml
-1 x ACNE Hydra-Derm Balancing Fluid 2ml