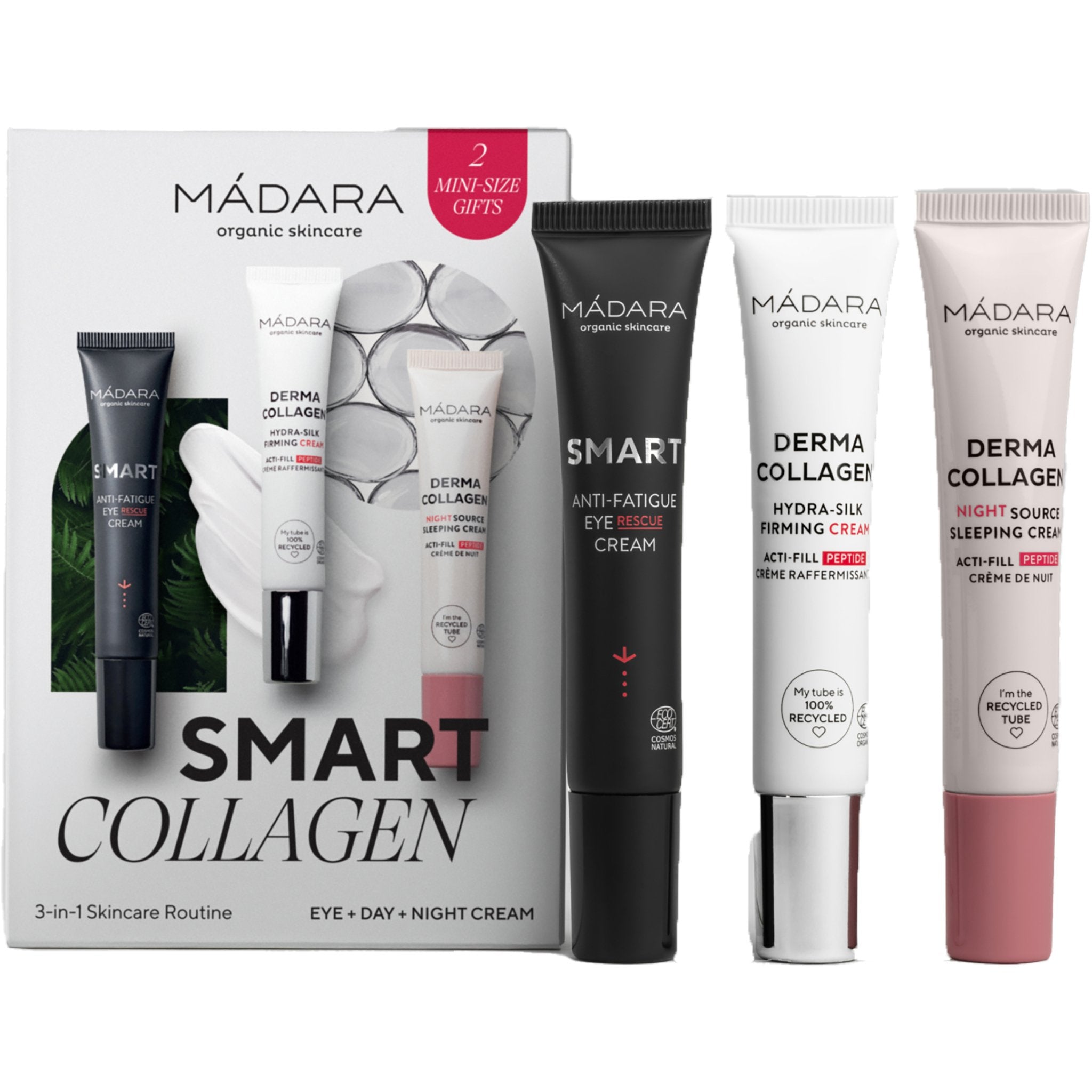 Certified Organic
Smart Collagen 3-in-1 Skincare Set - Worth £52.85
Gift Pack
---
About this brand

Everything you need to know about this brand.

MÁDARA

Have you heard of MADARA, the award-winning natural skincare brand? If not, you're in for a treat! MADARA was founded by Lotte-Tisenkopfa-Iltnere, a woman with a true passion for natural health and beauty. In 2006, Lotte set out to create a line of skincare products that were made with natural, plant-based ingredients and were free from harsh chemicals.


And boy, did she succeed! After traveling to the Baltics to learn about the region's native plants and their skin-loving properties, Lotte spent years researching and testing different ingredients. The result? A range of high-quality skincare products that are not only effective, but also gentle and nourishing for the skin.

It's no wonder MADARA has won numerous awards for its natural skincare products. Lotte is dedicated to using only the finest, natural ingredients in her products and to protecting the environment through eco-friendly practices. This commitment to natural, sustainable beauty shines through in every product.

If you're looking for natural, high-quality skincare products, give MADARA a try. You won't be disappointed! Lotte's passion for natural health and beauty has truly inspired the MADARA brand, and her dedication to creating effective, natural skincare products has helped many people achieve healthy, radiant skin.
MADARA are entirely natural and ecological cosmetics certified by ECOCERT & COSMOS.
Buy MADARA Organic Skincare and read MADARA reviews at mypure.co.uk, the organic beauty specialists.
Reviews

See what our customers have to say about this product.
Ingredients

See a complete list of this product's ingredients.

See individual products
How to Use

Learn more about how to use this product.
Delivery

Learn more about our ordering policies.

Our deliveries are handled by Royal Mail. We use the TRACKED 24 Hour & TRACKED 48 Hour services to deliver parcels to addresses in the UK.

Free Delivery

Orders over £30 are delivered free of charge to UK addresses via the Royal Mail TRACKED 48 Hour service.

Royal Mail TRACKED 48

Fully tracked with SMS/email updates. Delivery time usually 2-5 business days to any UK address including Channel Islands and Isle of Man. Free for orders over £30 - £4.95 for orders under £30.



Royal Mail TRACKED 24
Fully tracked with SMS/email updates. Delivery usually the next business day for orders placed before 2pm Monday to Friday. Includes Channel Islands and Isle of Man - £6.95



INTERNATIONAL ORDERS: £9.95 up to 2kg - Delivery by Royal Mail 1st Class Airmail. Orders posted to countries outside the UK may be subject to import charges which are the responsibility of the receiving customer.



INSURANCE - We insure your parcel so you never need to worry about being out of pocket if your parcel gets lost or stolen. Our insurance does not cover parcels delivered to safe places you have nominated. It is your responsibility to make sure the nominated place is safe.



INCORRECT / INCOMPLETE ADDRESSES - If you provide an incorrect or incomplete delivery address at the time of your order it will be your responsibility to pay all the associated re-delivery costs. If your package is returned to us due to an incorrect or incomplete address, you must pay all costs to re-deliver the parcel.