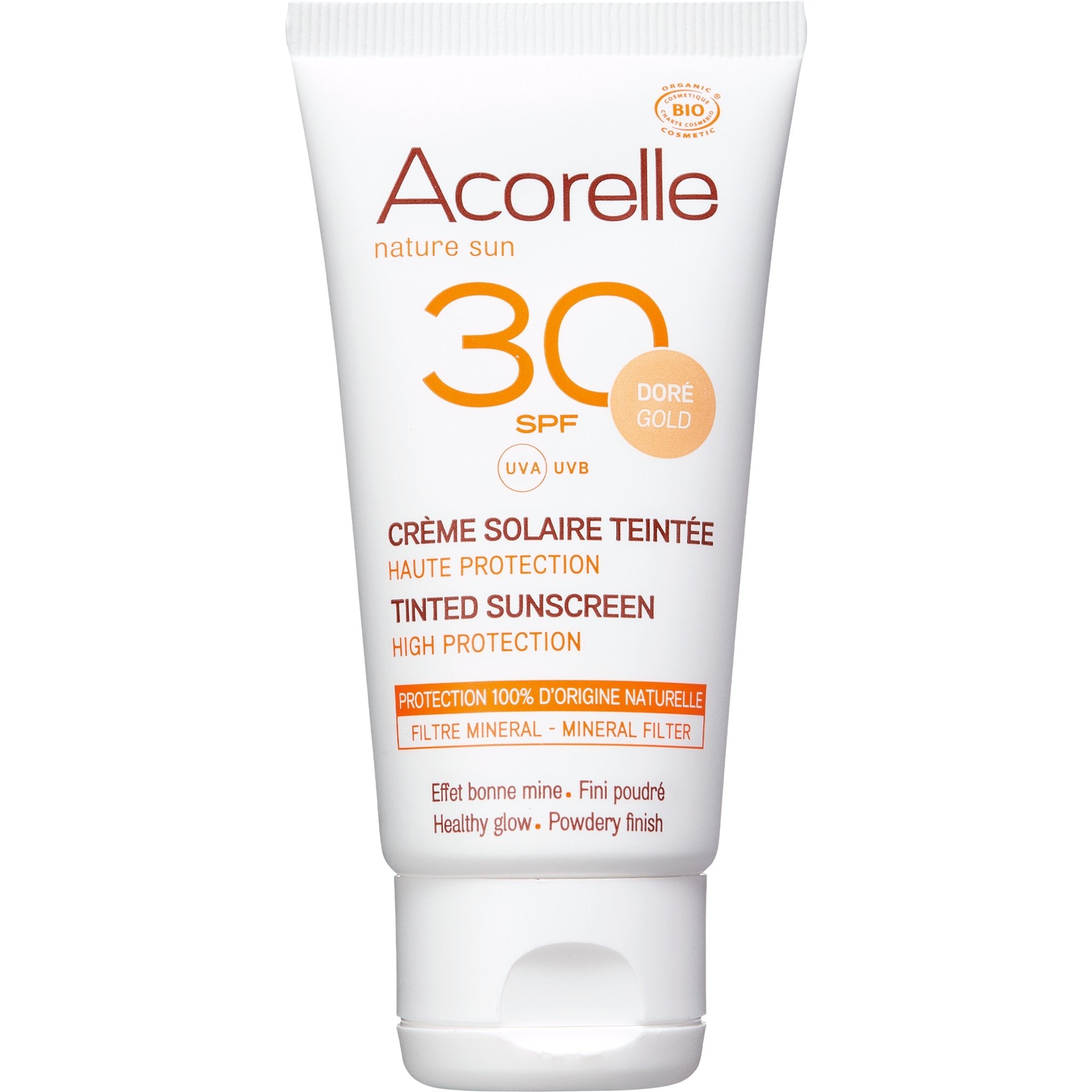 Certified Organic

Natural Product

Not tested on animals

Vegetarian Product
Medium Gold Tinted Sunscreen SPF30
50ml
---
A formula that respects your health
Certified organic golden-tinted SPF30 face sunscreen provides high and immediate protection against UVA and UVB rays, thanks to its 100% natural mineral filter which does not penetrate the skin barrier and remains on its surface.

Youthfulness is preserved thanks to a combination of protective and anti-oxidant active ingredients which prevent deep damage caused by exposure to the sun: the Api Oléo Actif TM, patented complex resulting from a synergy of Pollens and Propolis which fights against the formation of free radicals, and organic Karanja oil, used in Ayurvedic medicine for its extraordinary properties. The formula is also enriched with organic Turmeric Extract , with nourishing and protective properties, organic Argan oil with antioxidant and restructuring properties, and organic Mango floral water which hydrates and soothes the skin. Throughout the exposure, the skin is protected and hydrated.

A protective treatment that illuminates the complexion on a daily basis
The combination of natural pigments and light-reflecting micas illuminates the complexion, for a natural healthy glow . Its creamy formula is a real daily care that offers comfort and suppleness to the skin. The finish is powdery, perfect for mattified skin, even in the sun.
Its fragrance with notes of Almond Blossom, Frangipani and Vanilla is 100% of natural origin and not photosensitizing. This tinted sun protection is ideal for tanned and dark skin. It is water resistant and can be used summer and winter as a substitute for foundation.

Protecting our environment is a priority
Each ingredient has been selected for its biodegradability, and the formula does not contain any derivative of petrochemical origin. The high water resistance keeps most of the formula on the skin's surface to preserve oceans and corals.
The non-synthetic filter of mineral origin respects marine flora and its biodiversity. Indeed, the Titanium Dioxide that we use is coated with an inert and hydrophobic material which remains on the surface of the water and does not impact the health of the corals.