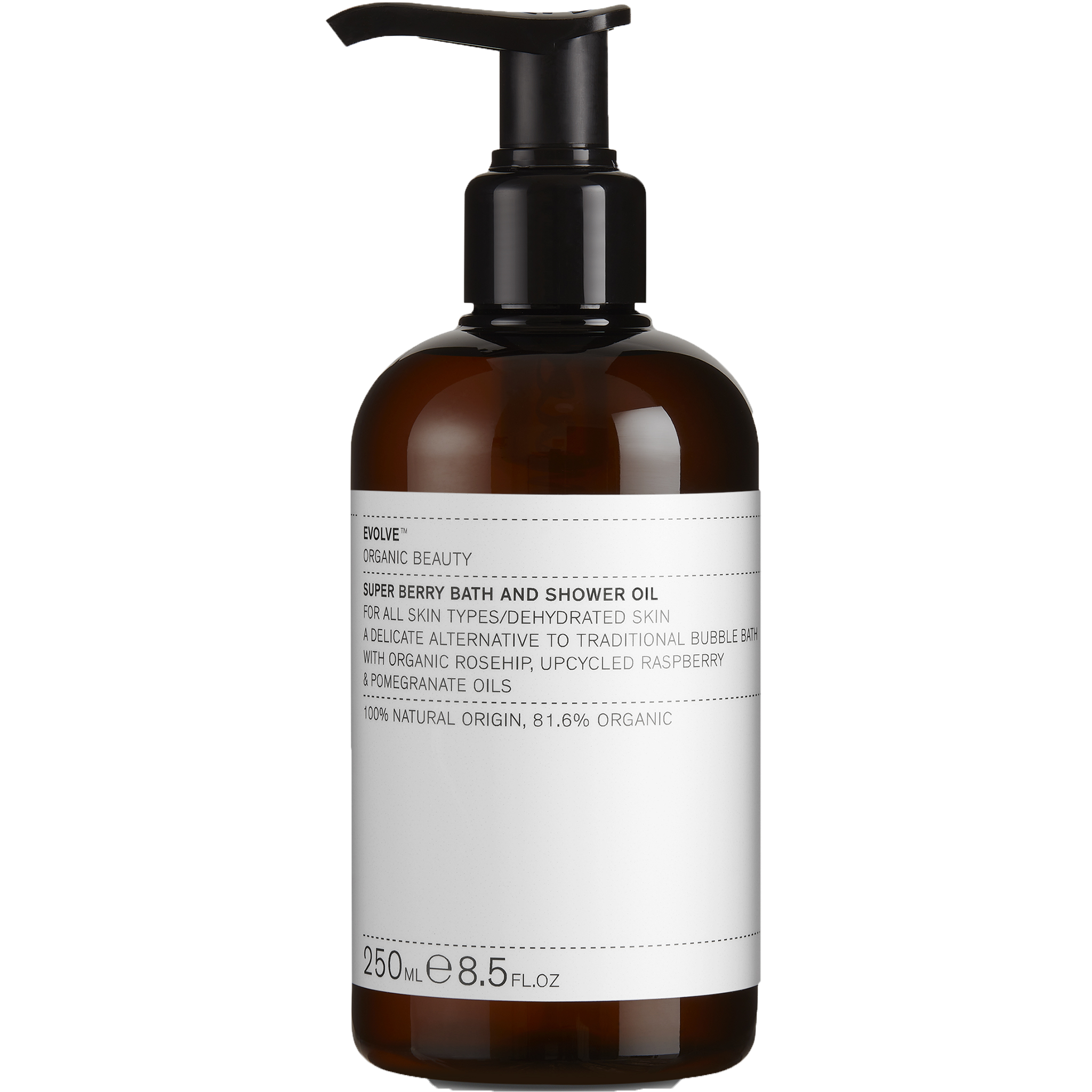 Certified Organic

Natural Product

Not tested on animals

Vegan Product

Vegetarian Product
Super Berry Bath & Shower Oil
250ml
---
FOR Dry Skin, Scars & Stretch marks
Wash and moisturise at the same time with this luxuriously lightweight shower oil for dry skin. A pregnancy safe alternative to a traditional bubble bath or shower gel, this cleansing body oil will gently clean, nourish & hydrate your skin whilst eliminating the need for post-shower moisturising.
Nature knows how to nurture, and that's why the waterless formula found in Super Berry Shower Oil is made up of natural oil cleansers. They magically transform into a soothing, milky emulsion to clean the skin without disturbing its protective barrier and help to reduce the appearance of scars and stretch marks at the same time. We told you it was super...
Chilean Rosehip Oil:
Used for centuries for its unique ability to revive skin that is prone to stretch marks or scaring, Rosehip Oil is extracted from the wild rose bush in the Andean mountains before it is dried, cold-pressed and added to your skincare products. Rosehip oil is rich in essential fatty acids omega-6 and omega-3, and is a versatile ingredient that promotes cellular renewal making it a great ingredient in a body oil for pregnancy as it helps your skin recover from the appearance of scarring and stretch marks.
Upcycled Raspberry Oil: Upcycled raspberry oil is full of antioxidants, full of essential fatty acids, but completely free from waste! A by-product of the fruit and jam industry, the raspberry seeds are naturally cold-pressed to create a fresh oil with a pleasant and light fruity aroma that helps promote cell regeneration which can help delivery smooth, silky skin.
Pomegranate Seed Oil:This 100% natural oil has been cold-pressed to ensure that all of the antioxidants and essential fatty acids found in the pomegranate seeds have made their way into your skincare product to help promote cellular regeneration and assist your skin in its recovery from scarring and stretch marks.