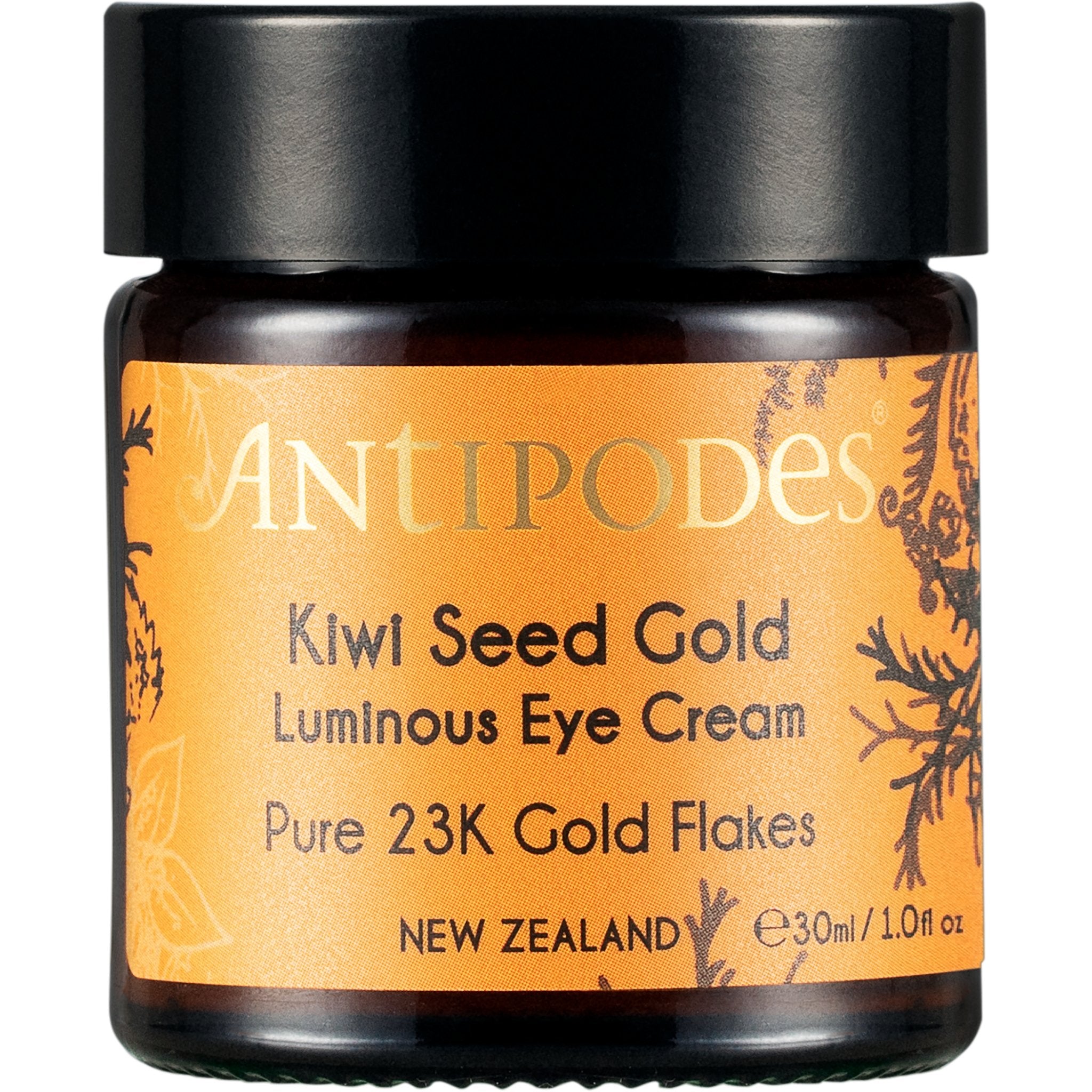 Natural Product

Not tested on animals

Vegan Product

Vegetarian Product
Kiwi Seed Gold Luminous Eye Cream
---
Discover the power of gold for the skin. Pure 23K gold flakes impart a warm, healthy glow while helping to calm stressed skin.
Skin Benefits
New Zealand kiwi fruit oil, rich in vitamin C, adds immediate moisture and helps soften fine lines under the eyes. Revolutionary antioxidant Vinanza®Grape and Kiwifruit skin brighten and lighten the under-eye area. This moisturising eye cream is fragrance free and suited to most skin types.
Scientific Validation
Clinically shown* to help improve skin appearance.
*Eight-week human clinical studies by New Zealand Extracts (2012): Vinanza® Grape & Kiwi is clinically shown to help improve skin appearance by improving skin cell membrane integrity by decreasing trans-epidermal water loss (TEWL) by 16%, improving skin elasticity by 16%, decreasing skin redness by 7% (erythema), and lightening skin by 3.5% (melanin content).
Credentials
This natural eye cream for daily use is certified vegan by the UK Vegetarian Society, the oldest and most respected vegetarian and vegan organisation in the world
Antipodes is committed to repurposing, reusing and recycling, including using recyclable boxes made from 100% biodegradable cardboard derived from sustainable forests as well as glass bottles, aluminium tubes and printing with 100% eco ink from vegetables.